About
Charmaine Wilson was not woken up to her gift to re-unite those who have crossed over to those still in life until 1999 after her father died. It took a further 3 years to work out what the voices she kept hearing were and then learn how to work with them. If it wasn't for the great mediums Doris Stokes and John Edward, Charmaine may never have realised exactly what she was but thanks to their brave efforts of bringing medium ship into the open she was able to work with her hidden talents.
She has lived through a lot of heartache in her life, including the death of her brother and her four year old daughter, both to tragic accidents. Her mother passed in late 2006. She has also lived through the trauma of suicide of a very dear friend and has recently lost her stepfather.
These deaths have made her a most compassionate and understanding reader, especially in relating to how her clients may be feeling.
Charmaine has been dedicated to giving as accurate information about the spirit world to her clients since she began her work in 2002. Though she has not been in the industry long, her achievements have been recognised by The Australian Psychics Association and she was awarded the 2005 Australian Psychic of the year and 2009 Queensland Psychic of the year for her efforts. In 2008 she was the winner of The One, a nationwide search for Australia's most gifted psychic.
She has created a workshop weekend called Living With Spirit, based on her own journey into the light after falling down in grief. She runs these workshops and retreats on a regular basis to try and help people understand the whole life death process so as they may get back on the road to recovery faster so as not to waste this wonderful life we have been given.
Charmaine has written two books Spirit Whispers, which focuses on her development as a medium and Life goes On, Spirit Children, which focuses on aiding bereaved parents. She travels around Australia in a bus with her husband, Patrick and their two dogs doing medium connection shows throughout regional Australia.
28th of September:
Night time Boutique Online Zoom Show
I am inviting you to attend a virtual Zoom show.
It will be formatted in the same way as my live events.
You will be the audience in the comfort of your own home and I will conduct the show by zoom.
There will be an introduction and then the readings will be done.
***Not everyone is guaranteed a reading.
I will then have a question/answer format and The last word.
Date: Tuesday 28 September
Time : 6:30 PM QLD time
*The link will be emailed to you by TryBooking after purchase.
*please make sure you are in a space where you will not be disturbed.
*only one person per ticket. This will be enforced. You will have your ticket checked as you are let into the room.
*Please use the same name on zoom as is on your ticket.
No Refunds or date changes
*if you somehow get evacuated you will have to wait until the current reading has been completed before you will be let back into the room
Use this link for tickets
31st of December:
Tattoo Oracle II "The Knowing" cards
Purchase the Tattoo Oracle II "The Knowing" cards - Price is $30 plus $7.95 shipping and handling
Tattoo Oracle Cards II are the second union of spirit medium Charmaine Wilson and award winning tattoo artist Teneile Napoli.
For centuries tattoos have signified powerful statements of our individuality, roadmaps of our spiritual journey. Over the centuries tattoos have become more defined and nowadays more readily accepted in society. Each tattoo chosen in this deck of 33 cards has been picked for the spiritual meanings associated with it. Choosing a card may assist you in illuminating problematic areas of your life and provide the guidance you seek.
Allow 2 weeks for shipping.
**for International orders please contact us @ info@spiritwhispers.org for pricing.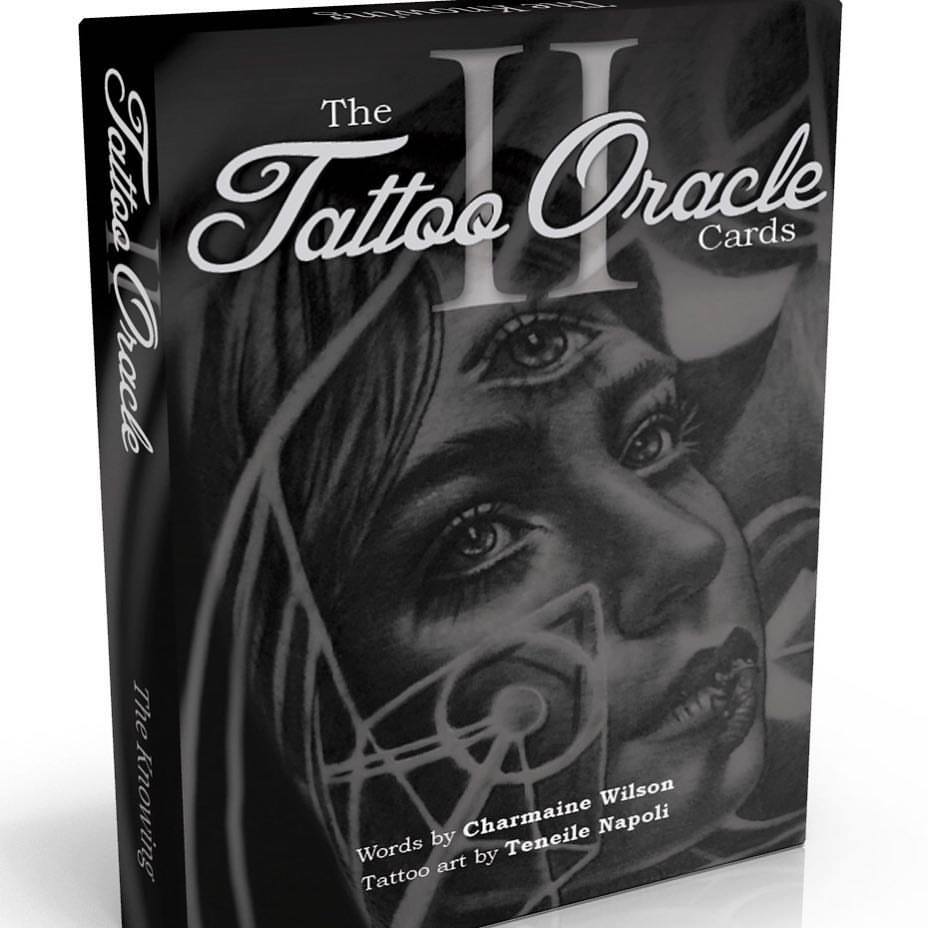 31st of December:
Merch Pack
Free Postage when you order the merch pack. You get the Healing Art of Spirit, Tattoo Oracle Cards, Meditation CD, Stubbie holder and the coveted butterfly pin all for just $90
Please allow up to two weeks for delivery.
**for International orders please contact us @ info@spiritwhispers.org for pricing.
31st of December:
Heavens Gate meditation CD
Purchase Heavens Gate meditation CD - Price is $20 + $5 shipping and handling
~There are two guided meditations included on this CD plus a quick introduction of the chakra system to get you prepared for the Heavens Gate meditation.
~Heavens Gate meditation is designed to help you reach the spirit realms and connect to those you love on the other side.
It is a gentle journey and one you will enjoy again and again. Heavens gate is the longer of the two meditations so please allow enough time and make sure you will not be disturbed
~Relax and Recharge is a ten minute wind down meditation designed to release the stress of the day and clear away negative energy.
Allow 2 weeks for shipping.
**for International orders please contact us @ info@spiritwhispers.org for pricing.
31st of December:
The Healing Art of Spirit
The Healing Art of Spirit is a compassionate guide for those seeking solace after the loss of a loved one. When the world as you knew it ends, and everyone around you continues on, how will you find your new normal? Be guided to:
*Navigate the darkest days with self -compassion.
*Reframe loss with gratitude for gifts received.
*Transform Bitterness into wisdom
*Forgive the past and embrace the present
*Open your heart to those still here and
*recognise the signs your spirit folk send.
The hummingbird knows there is a sweetness hidden beneath the hard exterior of bitter experience. You, too, can discover light, laughter and happiness again.
$25 plus $5 shipping and handling
Allow 2 weeks for shipping.
**for International orders please contact us @ info@spiritwhispers.org for pricing.